By starting with one of our motor platforms, you can then have the subwoofer built to suit your listening preferences, cosmetic preferences, power handling requirements, enclosure requirements, and more.
This motor can be built to work well in sealed, ported, bandpass, and infinite baffle. It accommodates a 3″ voice coil, and can be built to work well on 500 watts rms or up to 1000w rms.
This motor can be built into a moderate power handling, very nice sounding subwoofer for your SQ install, or can be built to deliver brutal bass lines while still being capable of very accurate musical reproduction.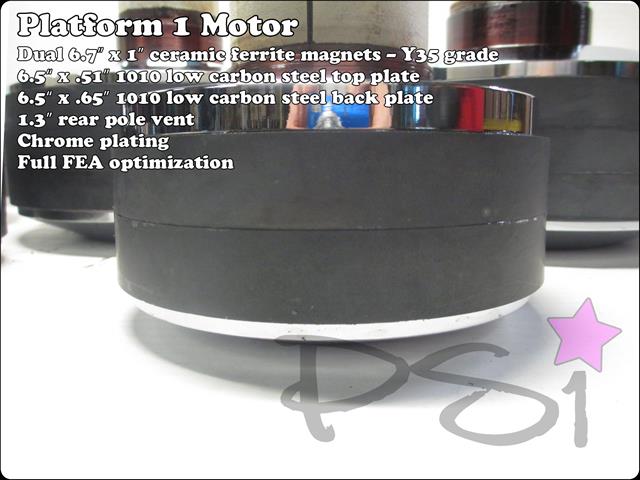 ---
Platform 2
This motor is a medium sized, and VERY versatile subwoofer platform. It can be built to work well in sealed, ported, bandpass, and infinite baffle. It accommodates a 3″ voice coil, and can be custom built to work well on 500 watts rms or up to 1800w rms in some installations. Optimal desired power range for building this is 1000-1600w rms.
We started our new design theory with this motor assembly. The goal was to make the most well-rounded, most easily adapted motor to date. FEA analysis has been utilized to ensure the maximum magnetic amount of strength is applied across the gap of this motor assembly, while still weighing less than most comparable motor assemblies used by other manufacturers.
This motor can be built into a flawless sound quality driver, a brute daily driver subwoofer, or anything in-between. We feel that no other motor assembly offers such and broad spectrum of configurability. Capable of up to 60mm xmax with an extended length coil, this motor can be the base of the daily low end monster with exceptional tonal quality that you have been waiting for!
This will also work very well in street style SPL setups where a medium tuning frequency is required!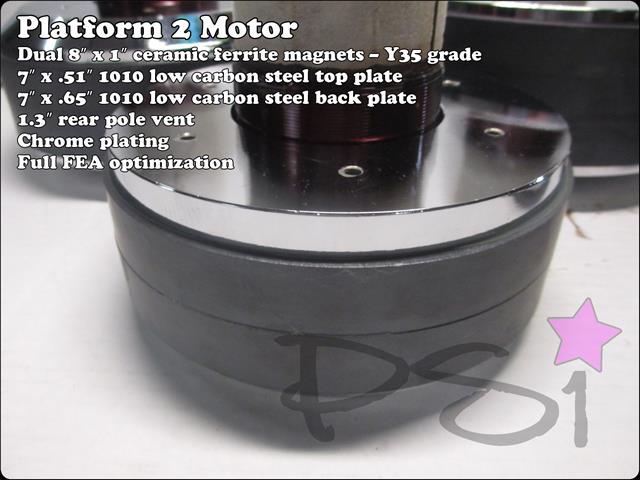 ---
Platform 3
This motor is geared towards high powered, high output use with good sound quality. It can be built to work in small to large ported, bandpass, and infinite baffle applications. While most comparably sized subwoofers on the market all lack in terms of low end output, this can be built with to deliver massive amounts of low end, while still sounding great!
The Platform 3 motor is our best middle-of-the-road offering. It can be used for anything from low-power sound quality builds or extreme SPL applications. With an extended length, flatwound voice coil, a quad stack of spiders, and triple leadwires, these can handle up to 3000w RMS depending on the enclosure type, and up to 8,000 watts of burp power handling!
The motor also has a chamfered pole piece to aid in cooling during daily, high powered use.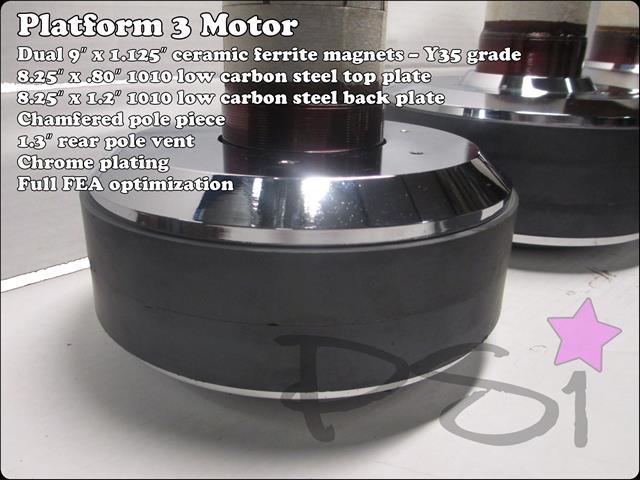 ---
Platform 4
The Platform 4 series motor uses the largest 3″ diameter voice coil that we have ever produced. This motor has been designed for ultra-high excursion applications where big power handling, perfect musical accuracy, and extreme amounts of output are needed.
When it comes to breathtaking low-frequency output, the Platform 4 series has been designed to be the King. This motor can accommodate ore than 3.75″ total travel from our specially designed 8 layer voice coil , and offers more excursion capability than any other motor in our lineup.
At over a full 1″ larger in diameter than its little brother, the Platform 4 offers a new level of magnetic strength and daily power handling capability. If you want to build the best possible daily use subwoofer, you'll probably start with the Platform 4 series motor assembly.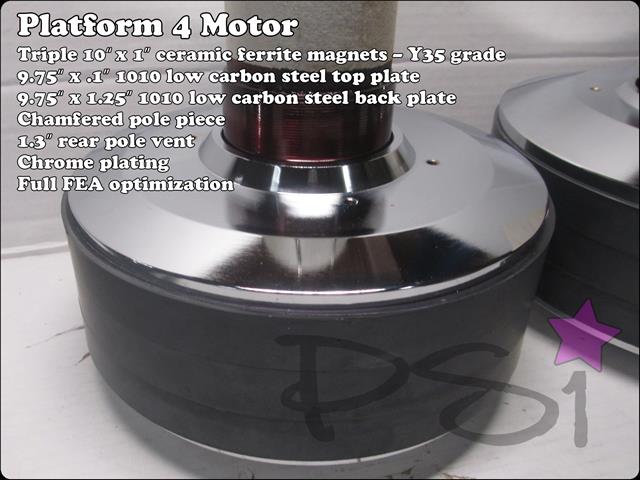 ---

Platform 5
The Platform 5 motor is absolutely massive. It is one of the largest subwoofer motors to ever be manufactured. It uses the highest quality and highest grade magnets to provide the most strength of any motor that we could offer.Unlike all of our other subwoofer series, the Platform 5 uses a 4″ diameter voice coil. To step past the incredible performance level of the Platform 4 series, we had to increase the size of everything, including the voice coil.
When it comes to making the most possible BASS, you need the most possible magnetic strength, and that's what this motor is all about. It's made with huge 11″ diameter, 1″ thick magnets and can accommodate an oversized 8 layer voice coil combining to offer subwoofers with over 4000 Watts RMS power handling capabilities.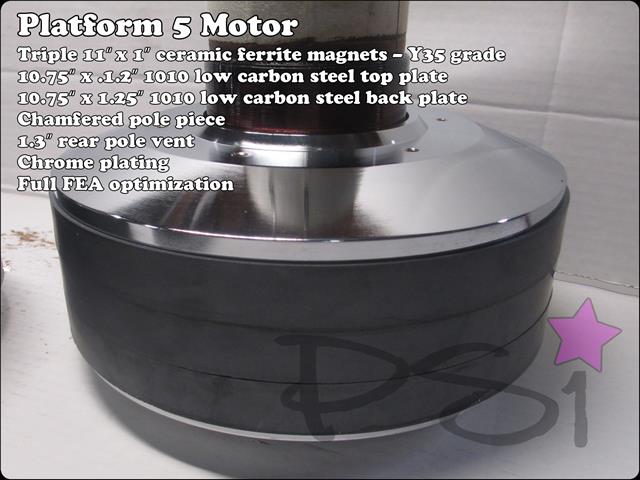 Please keep in mind that we do NOT expect you to design your own subwoofer! The pages in our custom subwoofer choices menu are only to inform you about the broad range of applications and installations that we can produce products for. All that you need to do to get a custom subwoofer built is to answer a few questions HERE.